Background/History
Gloucestershire Archaeology (GlosArch) launched a special interest group for Osteoarchaeology (Osteo) in 2019. This was inspired by a collaboration between GlosArch and the Sedgeford Historical and Archaeological Research Project (SHARP) on the National Lottery Heritage Funded project 'Volunteering with a Disarticulated Community: Towards Re-association of Anglo-Saxon Bones'. The funding provided free training for members of GlosArch, and other local archaeological societies, to learn how to record disarticulated human remains that have been excavated from the Early Medieval cemetery site at Sedgeford, Norfolk.
The group is led by Dr Sophie Beckett and its aims are to provide a friendly, inclusive and supportive training environment for GlosArch members who are interested in volunteering to help record and study archaeological human remains.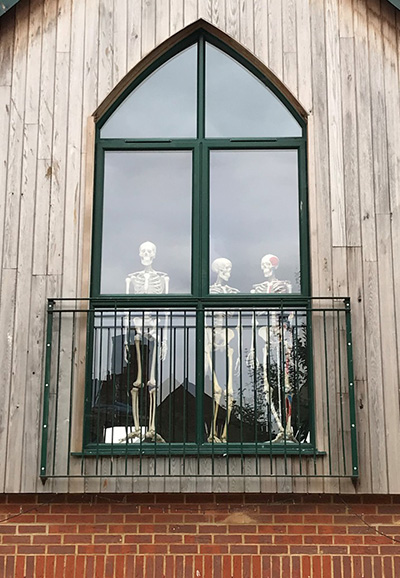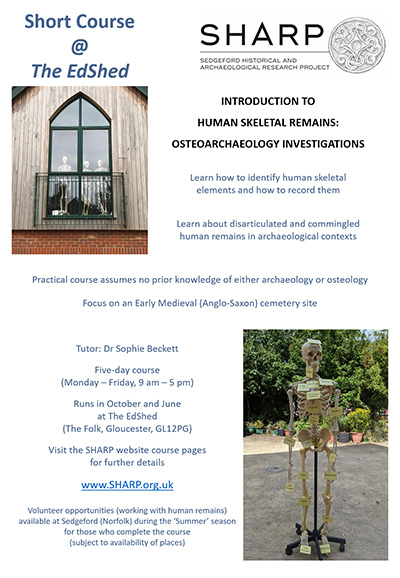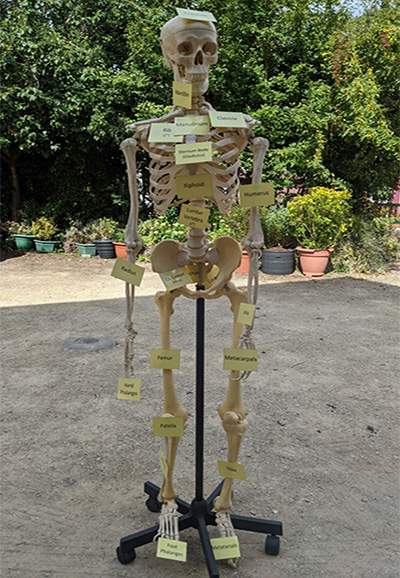 In March 2020, members of the Osteo group helped the Ogbourne St Andrew Parish History Group carry out a 'field-walk' of the Early Bronze Age Barrow of Ogbourne St Andrew, situated within the churchyard. This activity was part of a barrow maintenance project supported by Historic England. Volunteers raked the mound ahead of grass-seeding and collected and recorded surface finds, which included some human remains.
Funding from Gloucestershire County Council's 'Growing Our Communities Fund' (GCC-GOCF) enabled further training and participation opportunities in the form of osteoarchaeology recording sessions in 2021 and 2022, again in collaboration with SHARP. These were held at the EdShed, a teaching-space based at the FOLK of Gloucester. The EdShed proved to be an excellent venue, being a heritage setting and also fulfilling the COVID-19 mitigation needs of the group. In addition, a grant from Gloucestershire's Let's be Clear Fund provided the offer of clear re-usable facemasks, free to volunteers.
Due to the success of its collaborative activities in Gloucestershire, SHARP now delivers its osteoarchaeology short course at the EdShed. Although there is a cost to attend, the course provides local access to osteoarchaeology training for interested members of the public who are based in Gloucestershire. SHARP offers opportunities for trained volunteers who are wanting to continue to develop their practical skills in recording human remains, on-site at Sedgeford (Norfolk) during SHARP's summer season. Several members of the Osteo group have participated.
In November 2022, the group assisted with the evaluation of a small assemblage of bone from a local community archaeology group's excavation in South Gloucestershire, just east of Bristol. The purpose was to establish if any of the bones were human. All were faunal remains but this was an excellent training opportunity for distinguishing non-human from human bone.
Osteoarchaeology Group Tutor
Dr Sophie Beckett is a part-time Lecturer in Forensic and Archaeological Biominerals at Cranfield University, an Honorary Fellow of Melbourne Dental School (University of Melbourne) and, freelance Osteologist and Archaeological Scientist. She is the Founding Director of community interest company 'H Res CT' which provides computed tomography (CT) scanning services to heritage sector organisations. Sophie is also a STEM artist, creating art from CT scans of a range of different objects.
Current Activities and Opportunities
GlosArch and Dr Beckett are in the process of liaising with local archives and applying for further funding to continue to develop and expand the Osteoarchaeology group. GlosArch will update this website page when news of any future group activities is available. Meanwhile, anyone who is interested in joining the group is recommended to consider attending the osteoarchaeology short course run by the Sedgeford Historical and Archaeological Research Project (SHARP) at the EdShed (FOLK of Gloucester) and participating in SHARP's summer season as volunteer with the human remains team. Prior experience in osteoarchaeology is NOT needed in order to attend the course but participants must be over 16 years of age.
SHARP is developing its online training environment (Digital Trenches) and will be creating online training resources for osteoarchaeology. Registration is free, as is some content. Payment of a fee may be required for some specific online short courses.