Welcome to GlosArch
The website of Gloucestershire Archaeology
GlosArch (Gloucestershire Archaeology) is a local amateur archaeology society with a mission to widen public knowledge of the fabulous archaeology and history of the county of Gloucestershire. Between September and April we hold an monthly series of public lectures by guest speakers on a range of archaeological and historical topics and in the summer we run a programme of visits to sites of interest. In addition, we have an active programme of archaeological fieldwork for members, both excavation and geophysical surveying, and run an osteoarchaeology recording group. No previous experience is needed to take part in these activities.
We publish a newsletter twice a year and our annual journal, Glevensis, which is in its 55th edition, carries reports on archaeological and historical topics by professional and amateur researchers.
If you share our passion for the past, why not join us?
Forthcoming Activities
---
Winter Lectures and Summer Visits
Following the cancellation of the October lecture, please see the revised schedule via the link below.
GlosArch November lecture Monday 27th November. 7.30pm
Professor Chris Fowler, University of Newcastle
Kinship and Early Neolithic chambered tombs in the Cotswolds and beyond.
Professor Fowler describes recent aDNA studies into the kinship relations between individuals buried in Early Neolithic chambered tombs on the Cotswolds. The results show a complex set of relationships between many of the individuals and allow an interpretation of the factors determining who was buried in the tomb and where they were buried within it.
2023-23 LECTURE SERIES
Below is the revised programme for the 2023-24 lecture series, with talks ranging from the Neolithic to the Medieval periods. Lectures are free to members and non-members (non-members are invited to make a small donation towards the cost of running the talks – £5 is suggested). Payment can be made by bank transfer to Gloucestershire Archaeology; Sort code 08-92-99; A/c no. 67285787.
Talks can be attended in person or via Zoom. For the Zoom link please email mailbox@glosarch.org.uk
Click here to see the revised schedule for 2023-24
Fieldwork
To take part, email fieldwork@glosarch.org.uk (members only).
Excavation
Excavation at Brookthorpe, 12-13th and 17-18th November 2023
Neil Cathie will be leading a further excavation in the area of the Roman villa which was largely removed by the M5 construction. Previous excavation here has yielded a large amount of Roman building material including 9kg of mosaic pieces (tesserae). The excavation will take in new areas, recently cleared of scrub vegetation. The dates for the excavation are Sunday 12th, Monday 13th, Friday 17th and Saturday 18th November.
Spaces for the excavation are now full.
If you wish to get involved, there is the possibility of undertaking a magnetometry survey of the parts of the site not previously examined on Monday 13th and Friday 17th. If you would like to take part in this activity please email:
fieldwork@glosarch.org.uk
Please note no previous fieldwork experience is required to take part.
Excavation at Minsterworth, 6-8th August 2023
The excavation at Minsterworth is now complete. A short report will appear in the Autumn newsletter.
Geophysics
Magnetometry Surveying at Castlemeads, Gloucester 27-28 October 2023
A previous resistivity survey showed on Castlemeads field, Gloucester, just across the river from the prison, showed some features, but we would hope to add some further detail with magnetometry.We started the magnetometry survey  on Friday 27th October.  However, on Saturday the site flooded so we were unable to complete the work. I am planning to reschedule for either 25th, 26th November or 2nd December. Surveying should take around 4 hours.
If you would like to take part in this activity please email: fieldwork@glosarch.org.uk Please note no previous fieldwork experience is required to take part.
Geophysics Training
Saturday 26th August 2023
This activity is now complete. For a short report, see the Autumn newsletter.
If you are interested in receiving training on our geophysics equipment, please contact Phil Cox via: fieldwork@glosarch.org.uk as a further session can be arranged if there is demand.
New Members Welcome
---
From students to seasoned experts, GlosArch welcomes people of all ages and experience to join us!
Benefits of becoming a member include...
Become a GlosArch Member
---
If you are interested in the archaeology or local history of Gloucestershire, join us, at GlosArch (Gloucestershire Archaeology), and help to discover the past.
Whatever your experience you can participate in excavations, fieldwalking, geophysical surveying, document research and historic building recording. There are lectures and site visits to attend and help and advice given on finds processing and pottery, coin and artefact identification and recording.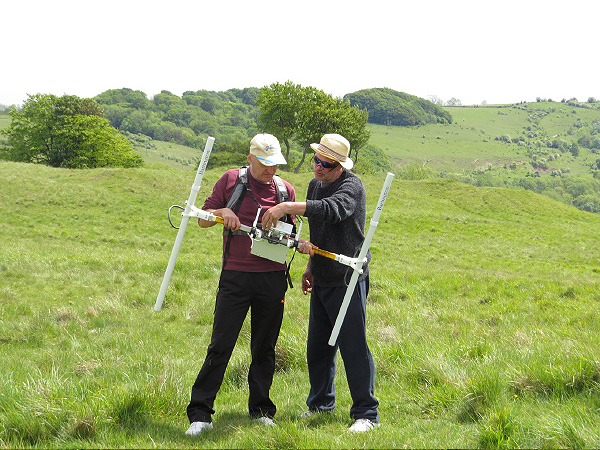 The latest from the GlosArch Facebook page
---